Kemono Friends (Season 2)
is the continuation of
the 2017 Kemono Friends anime
. It was informally announced by series creator
Yoshizaki Mine
on February 25th 2017 on his blog, where he stated that the project
would indeed continue
thanks to its popularity.
The continuation was also hinted at in the post-credit scene of the season finale of the original anime, where the words "To Be Continued" slowly faded on screen just before the episode ended.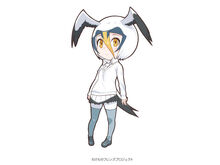 The formal announcement came on March 29th 2017, revealing not just the continuation of the series but also the first new Friend.
The new Friend is a bird that's believed to be a Seagull.
Further details on the continuation has not yet been given at this time, but it's likely it will follow the anime's Friends as they explore the Gokoku Region to the south of Japari Park.
Ad blocker interference detected!
Wikia is a free-to-use site that makes money from advertising. We have a modified experience for viewers using ad blockers

Wikia is not accessible if you've made further modifications. Remove the custom ad blocker rule(s) and the page will load as expected.